Kobe Beef Quality, Family Affordable
Details
10 lbs Ground Criollo Beef - 1 to 1.2 lb packs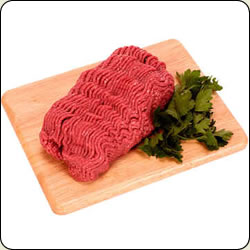 Get at least 10 lbs of our lean and delicious American Criollo Brand Ground Criollo Beef.
Your Ground Criollo Beef comes to you in individual, heavy mil plastic-wrapped, flash frozen, 1 to 1.2 lb packages.
This is NOT the same ground beef you get in your local markets! Instead of just random ground beef scraps, our Ground Criollo is created from ALL the great cuts (Prime Rib, Sirloin, etc.); truly a gourmet ground meat! All our Ground Criollo is from hand-cut, close-trimmed pieces, then ground twice for a wonderful texture, and carefully packed in 1 to 1.2 lb packages. With American Criollo Brand Ground Criollo, you are serving a leaner, more nutritious, grass-fed beef product to your family and friends! Averages 92% lean!
Recipes
---
---
---
---
---
Shipping
Shipping Information
Our next shipping date will be Monday, December 11, 2023.
Your Criollo Beef order is delivered to your door in perfect condition. We use plenty of dry ice and a reusable, insulated cooler - a packaging combination that will insure your products arrive frozen and in excellent condition. We ship via FEDEX on Mondays. Our shipping charges for 1 and 2 day deliveries (tan and light tan areas on the map) are $36.00 for each 25 pounds of beef (i.e. 1 to 25 lbs will be $36.00 and 26 to 50 lbs will be $72)
In delivery areas requiring 3 or 4 days in the FEDEX system (green and brown areas on the map) : to insure your Criollo Beef order arrives in perfect condition, we must add additional dry ice, and usually a larger shipping container to hold the extra dry ice. Due to the additional dry ice and larger container needed, shipments requiring 3 or 4 days in the FEDEX system will require an additional $18.00 in shipping fees. If you live in the 3 or 4 day FEDEX delivery area (based on delivery zip code), your shipping charges will be increased by $18.00 (from $36.00 to $54.00 for 0 to 25.0 lbs, and from $72.00 to $90.00 for 25.1 to 50.0 lbs., etc.). You will see this additional $18.00 (if applicable) added for the final order verification.
UNFORTUNATELY, WE CANNOT SHIP TO AREAS REQUIRING 5 DAYS DELIVERY, (PUERTO RICO and 2 SMALL AREAS IN NEVADA - ORANGE ON THE MAP), NOR TO HAWAII OR ALASKA. DISTANCE CHARGES AND 5 DAY DELIVERY MEANS 7 DAYS IN THE SHIPPING SYSTEM, AND WE JUST CAN'T KEEP YOUR ORDER IN PERFECT CONDITION FOR THAT LONG! THANK YOU FOR YOUR UNDERSTANDING.