BEEFY FRENCH ONION SOUP
buy beef for this recipe | print recipe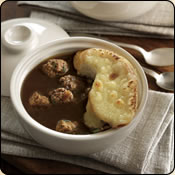 BEEFY FRENCH ONION SOUP
Ingredients

1 pound Criollo ground steak
2 cans (10-1/2 ounces each) condensed French onion soup
1/2 teaspoon dried thyme leaves
4 slices Swiss cheese
4 slices French bread, cut 1-inch thick
Instructions
Brown ground steak in large saucepan or nonstick skillet over medium heat 8 to 10 minutes or until beef is not pink, breaking up into 3/4-inch crumbles. Pour off drippings.

Add soup and amount of water according to soup can directions. Stir in thyme; bring to a boil. Reduce heat; simmer, uncovered, 5 minutes to blend flavors, stirring occasionally.

Cut cheese to fit bread slices; top bread with cheese. Place bread slices on rack in broiler pan so surface of bread is 3 to 4 inches from heat. Broil 1 to 2 minutes or until bread is toasted and cheese is melted and golden brown.

Evenly ladle soup into 4 bowls. Top each bowl with 1 bread slice.
Other delicious SKILLET recipes: