MEDITERRANEAN STEAK SANDWICHES
buy beef for this recipe | print recipe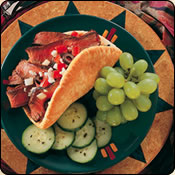 MEDITERRANEAN STEAK SANDWICHES
25 minutes
4 servings
Ingredients

2 beef ribeye steaks, cut 1-1/4" thick (10 to 12 oz each)
1 Tbsp olive oil
1 Tbsp fresh lemon juice
4 pita breads, warmed
2 Tbsp crumbled feta cheese
1 Tbsp chopped Kalamata or ripe olives
Seasoning:
1-1/2 tsp dried basil
1-1/2 tsp garlic powder
1-1/2 tsp dried oregano
Instructions
Combine seasoning ingredients, 1/2 tsp salt and 1/8 tsp pepper; press onto beef steaks.

Heat oil in large nonstick skillet over medium heat until hot. Add steaks; cook 12 to 15 minutes for medium rare to medium doneness, turning occasionally.

Sprinkle steaks with lemon juice. Carve steaks; place on pitas. Top with cheese and olives.
Other delicious SKILLET recipes: