EASY STEAK DIANE
buy beef for this recipe | print recipe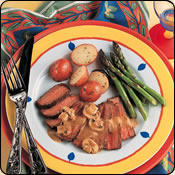 EASY STEAK DIANE
Ingredients

2 beef top sirloin steaks, cut 1-1/4" to 1-1/2" thick (about 1 lb each)
1 tsp freshly grated lemon peel
Sauce:
1 Tbsp vegetable oil
1/2 lb small mushrooms, sliced
2 Tbsp finely chopped shallot or green onion
1 Tbsp brandy, optional
1/4 cup half-and-half
1 Tbsp fresh lemon juice
2 tsp Dijon-style mustard
2 tsp Worcestershire sauce
Instructions
Heat oil in large nonstick skillet over medium heat until hot. Add mushrooms and shallot; cook and stir 3 minutes or until tender. Remove.

Mix lemon peel and 1/4 tsp pepper; press onto beef steaks. Carefully wipe skillet out with paper towels; spray with cooking spray. Heat over medium heat until hot. Add steaks; cook 12 to 15 minutes for medium rare to medium doneness, turning occasionally. Remove.

Add brandy to skillet; cook and stir until browned bits attached to skillet are dissolved. Stir in half-and-half, lemon juice, mustard and Worcestershire sauce. Add mushroom mixture; heat through.

Carve steaks. Serve with sauce.
Other delicious SKILLET recipes: