BEEF STEAK & ROASTED VEGETABLE SALAD
buy beef for this recipe | print recipe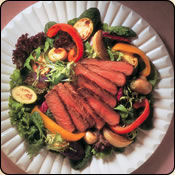 BEEF STEAK & ROASTED VEGETABLE SALAD
Ingredients

2 beef top sirloin steak, cut 1-1/4" to 1-1/2" thick (about 1 lb each)
8 cups torn salad greens
3/4 cup Italian dressing
Roasted Vegetables:
16 small mushrooms
1 large red, yellow or green bell pepper, cut into 1" wide strips
1 medium Japanese eggplant, sliced (1")
1 medium onion, cut into 8 wedges
1 medium zucchini, sliced (1")
2 Tbsp balsamic vinegar
2 large cloves garlic, minced
1 tsp dried rosemary
Instructions
Heat oven to 425°F. Spray 15" x 10" baking pan with cooking spray. Place vegetables in pan; spray generously with cooking spray. Drizzle with vinegar; sprinkle with garlic, rosemary and salt and pepper. Stir to coat. Roast in 425°F oven 30 to 35 minutes or until tender, stirring once. Cool slightly.

Heat large nonstick skillet over medium heat until hot. Add beef steaks; cook top sirloin steaks 12 to 15 minutes for medium rare to medium doneness, turning occasionally.

Let steaks stand 10 minutes. Carve steaks; season with salt. Arrange beef and vegetables on greens. Serve with dressing.
Other delicious SKILLET recipes: