Click Here to View Available Criollo Beef Items - Quick Order
Free Range, Grass Fed/Grass Finished Beef:
Our 100% Grassfed Criollo Beef is
Delicious, Lean, Tender --
and Good for You, too!
Criollo Beef - The Natural Choice!
Our all-natural, free-range, grass fed Criollo (pronounced krēē-ō-yō) beef is unbelievably tender with a mouth watering aroma and robust, full-bodied flavor that makes tenderizers, rubs, marinades and sauces unnecessary. Our grass fed beef is a healthy source of high quality protein and essential fatty acids. And finally, our beef is MORE TENDER and of HIGHER Quality than Kobe (Wagyu) beef. We have the documentation to prove it. Kobe Quality at an Affordable Price!
Our Criollo Cattle are NEVER given antibiotics, growth hormones or grain products.
Our Criollo Cattle NEVER go to crowded, dirty feedlots.
Our Criollo Cattle are DNA Tested prior to harvest, to verify superior tenderness and quality.
Our Criollo Cattle roam spacious pastures their entire lives, grazing on native and improved grasses.
Our Criollo Cattle are ONLY fed high quality grasses, hays and alfalfa.
This natural, stress-free life without grains, growth hormones, or antibiotics gives you a way to serve your family and friends something delicious you can feel good about.
Give it a try with our 10 lb "Just a Bite" package and taste the difference. Click here to check out all of our Criollo Beef selections. Are you looking for a side of Criollo Beef? We have it!
Do you live in the Abilene area? You can easily avoid shipping charges and pick up your Criollo Beef right here at the ranch! During checkout, just click that you will pick up your Criollo Beef order here at the Jandal Ranch! Shipping charges will be removed from your order. It's Easy!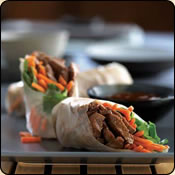 Our next shipping date will be Monday, December 11, 2023.
Your Criollo Beef order is delivered to your door in perfect condition. We use plenty of dry ice and a reusable, insulated cooler - a packaging combination that will insure your products arrive frozen and in excellent condition. We ship via FEDEX on Mondays. Our shipping charges for 1 and 2 day deliveries (tan and light tan areas on the map) are $36.00 for each 25 pounds of beef (i.e. 1 to 25 lbs will be $36.00 and 26 to 50 lbs will be $72)
In delivery areas requiring 3 or 4 days in the FEDEX system (green and brown areas on the map) : to insure your Criollo Beef order arrives in perfect condition, we must add additional dry ice, and usually a larger shipping container to hold the extra dry ice. Due to the additional dry ice and larger container needed, shipments requiring 3 or 4 days in the FEDEX system will require an additional $18.00 in shipping fees. If you live in the 3 or 4 day FEDEX delivery area (based on delivery zip code), your shipping charges will be increased by $18.00 (from $36.00 to $54.00 for 0 to 25.0 lbs, and from $72.00 to $90.00 for 25.1 to 50.0 lbs., etc.). You will see this additional $18.00 (if applicable) added for the final order verification.
UNFORTUNATELY, WE CANNOT SHIP TO AREAS REQUIRING 5 DAYS DELIVERY, (PUERTO RICO and 2 SMALL AREAS IN NEVADA - ORANGE ON THE MAP), NOR TO HAWAII OR ALASKA. DISTANCE CHARGES AND 5 DAY DELIVERY MEANS 7 DAYS IN THE SHIPPING SYSTEM, AND WE JUST CAN'T KEEP YOUR ORDER IN PERFECT CONDITION FOR THAT LONG! THANK YOU FOR YOUR UNDERSTANDING.
Please click here for detailed information about our shipping charges and policies.