Kobe Beef Quality, Family Affordable
Details
Criollo Beef - One Side - deposit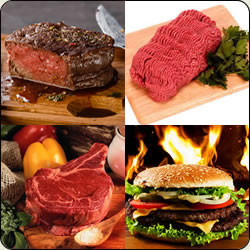 Buying a side of Criollo beef gets you ALL the delicious steaks, roasts and other cuts you love--at a price you'll love just as much!
Our 2023 harvest season starts 6/19/2023, and concludes in late August 2023. Get your deposit in early, as our Sides and Wholes sell out early. Your Criollo Side will be custom-cut to your individual specifications and preferences.
Our Criollo sides average 250 to 275 lbs, although each individual side will vary slightly, and are priced at $6.25/lb dressed weight. "Dressed weight" is the weight of the side of beef immediately after harvest; our processor has a certified scale, conducts the weighing/records the weights, and provides a cut sheet detailing the exact dressed weight of each side of Criollo beef they process. We pay the processing fees, of course--which saves our customers an average of $1.92 per pound dressed weight!
A deposit of $400 reserves your side; you will be provided with a Cut Instructions Sheet to fill out, so that your side of delicious Criollo beef can be custom-cut to your exact specifications. The exact cost of your side of Criollo beef will be determined by the hanging weight; once that is known, the deposit will be subtracted, and the balance will be due upon shipping, or pick-up at the Jandal Ranch.
Depending on how you choose for your side of Criollo beef to be processed, the expected yield of vaccuum-packed retail cuts of Criollo beef will vary from 60% to 70% of the hanging weight, plus select soup bones. About half of the retail cuts will be steaks/roasts/etc., and about half will be ground product. For example, if your side of Criollo beef has a hanging weight of 250 lbs, you can expect to receive about 80-85 lbs of steaks, roasts, ribs, etc., and about 80-85 lbs of ground product. In addition, each side of Criollo beef will yield around 10-15 lbs of select soup bones.
Your side of Criollo beef will dry-age 1-2 weeks prior to processing; the individual cuts will be flash-frozen as soon as they are cut and vacuum-wrapped. Once the boxes of Criollo beef have been frozen 2 days, they will ship the next Monday, or be available for pick-up at the Jandal Ranch. Shipping fees are $38.00/25 lbs of beef, for 1-2 day shipments. Due to uncertainty of prompt delivery in the UPS & Fedex systems, we will not ship sides or wholes to areas requiring more than 2 days in the shipping system.
Criollo sides do not include the organ meats, but do include 3-4 bags of select soup bones.
Prices subject to change without notice.
Recipes
Shipping
Shipping Information
Our next shipping date will be Monday, October 9, 2023.
Your Criollo Beef order is delivered to your door in perfect condition. We use plenty of dry ice and a reusable, insulated cooler - a packaging combination that will insure your products arrive frozen and in excellent condition. We ship via FEDEX on Mondays. Our shipping charges for 1 and 2 day deliveries (tan and light tan areas on the map) are $36.00 for each 25 pounds of beef (i.e. 1 to 25 lbs will be $36.00 and 26 to 50 lbs will be $72)
In delivery areas requiring 3 or 4 days in the FEDEX system (green and brown areas on the map) : to insure your Criollo Beef order arrives in perfect condition, we must add additional dry ice, and usually a larger shipping container to hold the extra dry ice. Due to the additional dry ice and larger container needed, shipments requiring 3 or 4 days in the FEDEX system will require an additional $18.00 in shipping fees. If you live in the 3 or 4 day FEDEX delivery area (based on delivery zip code), your shipping charges will be increased by $18.00 (from $36.00 to $54.00 for 0 to 25.0 lbs, and from $72.00 to $90.00 for 25.1 to 50.0 lbs., etc.). You will see this additional $18.00 (if applicable) added for the final order verification.
UNFORTUNATELY, WE CANNOT SHIP TO AREAS REQUIRING 5 DAYS DELIVERY, (PUERTO RICO and 2 SMALL AREAS IN NEVADA - ORANGE ON THE MAP), NOR TO HAWAII OR ALASKA. DISTANCE CHARGES AND 5 DAY DELIVERY MEANS 7 DAYS IN THE SHIPPING SYSTEM, AND WE JUST CAN'T KEEP YOUR ORDER IN PERFECT CONDITION FOR THAT LONG! THANK YOU FOR YOUR UNDERSTANDING.