Kobe Beef Quality, Family Affordable
Details
Beef Sides, Wholes and Variety Packages
No need to make up your mind as to which delicious cut of Criollo beef you want to try--get a Criollo Variety Pack, Criollo Side or Criollo Whole, and have an assortment of Criollo products at SUBSTANTIAL savings over buying the retail cuts individually!
We normally offer 6 different sizes of variety packs, ranging from 10 lbs to 160 lbs. Our Variety Packs consist of 100% Criollo retail cuts: steaks, roasts, fajitas, barbeque. Unfortunately, due to the current uncertain situation with beef supplies, we have limited availability of only our smaller Variety Packs.
"COW-POOL" with your friends and neighbors, and buy a Criollo Side or Whole!
Want to save some REALLY serious change? Recruit your family, friends & neighbors! Buy our delicious Certified Criollo Grass Fed Beef in bulk, and divide the order!
RESERVE YOUR 2023 CRIOLLO BEEF SIDES AND WHOLES!
The next ACBA Harvest Season will start June 19, 2023 and conclude late August, 2023. If you want a side or whole from our 2023 harvest season, get your reservation and deposit in early, as our Sides and Wholes sell out fast; your 2023 Criollo Whole or Side will be custom-cut to your individual specifications!
Click on the Side or Whole to learn more!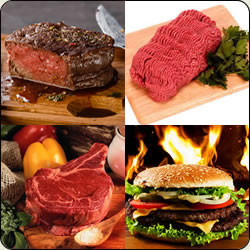 Criollo Beef - One Side - deposit
Your Price: $400.00 (175 or 180 lbs)

---
Criollo Beef - One Whole Animal - deposit
Your Price: $800.00 (350 or 360 lbs)

---
Just a Bite Pack (10 lbs)
Your Price: $129.50 (160 oz min. or 10 lbs)

---
Happy Couple Pack (20 lbs)
Your Price: $239.50 (320 oz min. or 20 lbs)

---
SIDES AND WHOLES AVAILABLE!!
We offer, during the harvest season, whole animals and individual sides, priced by the pound based on dressed weight, PROCESSING FEES INCLUDED. What's so important about the processing fees being included? It's a BIG deal--the expenses associated with creating vaccum-packed cuts of beef include: the harvest fee, meat hanging/aging/cutting fee, by-product disposal fee, and package fee. Typically, processing fees average $1.92 per pound of dressed weight for dry-aged, vacuum-packed beef such as we are proud to provide our customers. By including all processing fees in our prices, our customers have only 1 variable to consider: the dressed weight of the side or whole they are considering purchasing.
Average hanging weight is 500 to 550 lbs, but each animal varies slightly. The yield from our animals from dressed weight to finished product varies from animal to animal , but is typically right around 65%-70%.
Wholes are priced at $5.95/lb dressed weight, and include the organ meats, with $800.00 deposit reserving the beef. Sides are priced at $6.25/lb dressed weight, with $400.00 deposit reserving the beef; organ meats are not included with sides. Select soup bones, in 3-5 lb bags, are included with both.
Expected yield of retail cuts of beef from wholes is 350 to 385 lbs of individual cuts; expected yield of retail cuts of beef from sides is 175 to 193 lbs of individual cuts.
Please contact us via email or telephone for more details. The 2023 harvest season starts June 19, 2023. Put down your deposit and make your reservation early, as our harvest dates sell out fast. Our sides and wholes typically dry-age for 2 weeks before being cut and vacuum-packed.
As an example, if you buy a side of beef, and that side of beef had a dressed weight of 250 lbs, your side of beef would cost 250 x $6.25 = $1,562.50, and you could expect 160 to 175 lbs of actual individual cuts of beef, plus select soup bones.

Another example, if you buy a whole beef (2 sides + organ meats), and that beef had a dressed weight of 550 lbs, your whole beef would cost 550 x $5.95 = $3,272.50, and you could expect 330 to 385 lbs of actual individual cuts of beef, plus the organ meats (liver, tongue, heart, oxtail), plus 8-10 bags of select soup bones.
Recipes
Shipping
Shipping Information
Our next shipping date will be Monday, May 29, 2023.
Your Criollo Beef order is delivered to your door in perfect condition. We use plenty of dry ice and a reusable, insulated cooler - a packaging combination that will insure your products arrive frozen and in excellent condition. We ship via FEDEX on Mondays. Our shipping charges for 1 and 2 day deliveries (tan and light tan areas on the map) are $36.00 for each 25 pounds of beef (i.e. 1 to 25 lbs will be $36.00 and 26 to 50 lbs will be $72)
In delivery areas requiring 3 or 4 days in the FEDEX system (green and brown areas on the map) : to insure your Criollo Beef order arrives in perfect condition, we must add additional dry ice, and usually a larger shipping container to hold the extra dry ice. Due to the additional dry ice and larger container needed, shipments requiring 3 or 4 days in the FEDEX system will require an additional $18.00 in shipping fees. If you live in the 3 or 4 day FEDEX delivery area (based on delivery zip code), your shipping charges will be increased by $18.00 (from $36.00 to $54.00 for 0 to 25.0 lbs, and from $72.00 to $90.00 for 25.1 to 50.0 lbs., etc.). You will see this additional $18.00 (if applicable) added for the final order verification.
UNFORTUNATELY, WE CANNOT SHIP TO AREAS REQUIRING 5 DAYS DELIVERY, (PUERTO RICO and 2 SMALL AREAS IN NEVADA - ORANGE ON THE MAP), NOR TO HAWAII OR ALASKA. DISTANCE CHARGES AND 5 DAY DELIVERY MEANS 7 DAYS IN THE SHIPPING SYSTEM, AND WE JUST CAN'T KEEP YOUR ORDER IN PERFECT CONDITION FOR THAT LONG! THANK YOU FOR YOUR UNDERSTANDING.