THYME-RUBBED BEEF TOP ROUND ROAST WITH ROASTED ONION AND PEAR WILD RICE
buy beef for this recipe | print recipe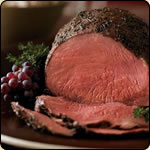 THYME-RUBBED BEEF TOP ROUND ROAST WITH ROASTED ONION AND PEAR WILD RICE
Ingredients

1 Criollo Top Round Roast (2 to 3 pounds)
1 tablespoon dried thyme leaves, crushed
1 teaspoon pepper
2 small firm pears, cut lengthwise in half, cored
1 medium red onion, cut into 1/2-inch wedges
1/2 teaspoon dried thyme leaves, crushed
1 package (6 to 7 ounces) long grain and wild rice mix
Instructions
Heat oven to 325°F. Combine 1 tablespoon thyme and pepper; press evenly onto all surfaces of beef roast.

Place roast on rack in shallow roasting pan. Insert ovenproof meat thermometer so tip is centered in thickest part of beef, not resting in fat. Place pears and onion around roast; sprinkle with 1/2 teaspoon thyme. Do not add water or cover. Roast in 325°F oven 1-3/4 to 2 hours for medium rare; 2-1/4 to 2-1/2 hours for medium doneness.

Remove roast when meat thermometer registers 140°F for medium rare; 155°F for medium. Transfer roast to carving board; tent loosely with aluminum foil. Let stand 15 to 20 minutes. (Temperature will continue to rise about 5°F to reach 145°F for medium rare; 160°F for medium.)

Meanwhile prepare rice mix according to package directions, omitting butter; keep warm. Coarsely chop pears and onion; stir into rice.

Carve roast into thin slices; season with salt, as desired. Serve with rice mixture.

Chef's Tip: Any firm pear, such as Anjou, Bartlett, Bosc, can be used.
Other delicious OVEN ROAST recipes: