SAVORY RUMP ROAST
buy beef for this recipe | print recipe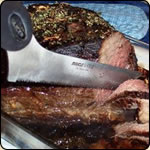 SAVORY RUMP ROAST
Ingredients

1 Criollo Rump Roast approx. 3 lbs.
2/3 cup Water
1 tablespoon Basil leaves
1 tablespoon Parsley
1 tablespoon Lipton Onion Soup Mix
1/2 teaspoon Minced garlic
Instructions
Preheat oven to 350 degrees. Place the rump roast in a 9 x 13 baking dish, fat side down and pour the water over the top of the roast.

Stick a meat thermometer in the thickest part of the roast half way through and bake for an hour and a half to two hours depending on the size of the roast and desired doneness.

Remove from oven and let the roast "rest" for 10 minutes.

Carve across the grain to achieve maximum tenderness.

Baste the slices of meat with the drippings, if desired.

Chef's Note: To make gravy from the drippings, mix equal parts of juice with flour and brown in a saucepan over low heat, stirring constantly. Add Swanson's beef broth gradually until desired consistancy is reached. Season to taste with salt and pepper.
Other delicious OVEN ROAST recipes: