BEEFY SHEPHERD'S PIE
buy beef for this recipe | print recipe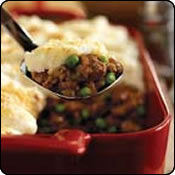 BEEFY SHEPHERD'S PIE
Ingredients

1 lb Criollo ground steak (about 92% lean)
1 medium onion, chopped
1 jar (12 ounces) mushroom or beef gravy
1-1/2 cups frozen peas
1/4 teaspoon pepper
2-1/2 to 3 cups prepared mashed potatoes, warmed
2 tablespoons shredded Parmesan cheese (optional)
Instructions
Heat oven to 450°F. Brown ground beef with onion in large nonstick skillet over medium heat 8 to 10 minutes or until beef is not pink, breaking beef up into 3/4-inch crumbles. Pour off drippings. Stir in gravy and peas; season with pepper.

Spoon beef mixture into 2-quart baking dish. Top with potatoes, spreading evenly; sprinkle with cheese, if desired. Bake in 450°F oven 25 to 30 minutes or until bubbly and cheese begins to brown.
Chef's Tip: Any type of prepared mashed potatoes may be used in this recipe: instant, refrigerated, frozen or homemade.
Other delicious OVEN ROAST recipes: