SOUTHERN ITALIAN STEAK & PASTA FOR TWO
buy beef for this recipe | print recipe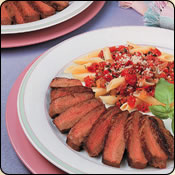 SOUTHERN ITALIAN STEAK & PASTA FOR TWO
Ingredients

2 beef tenderloin filets, cut 2" thick (about 5-6 oz each)
3/4 cup uncooked penne pasta, cooked
2 Tbsp grated Romano cheese
Sauce:
1 Tbsp olive oil
1/4 cup chopped onion
1 clove garlic, minced
3/4 lb fresh plum tomatoes, seeded, chopped
1/4 tsp sugar
1/8 tsp ground nutmeg
1/8 tsp freshly ground black pepper
1 Tbsp chopped fresh basil
1 Tbsp grated Romano cheese
Instructions
Heat oil in medium saucepan over medium heat until hot. Add onion and garlic; cook and stir 4 minutes. Add tomatoes, sugar, nutmeg, pepper and 1/8 tsp salt; cook and stir 5 minutes. Stir in basil and 1 Tbsp cheese. Remove from heat; cover.

Heat large nonstick skillet over medium heat until hot. Add tenderloin filets; cook 10 to 13 minutes for medium rare to medium doneness, turning occasionally. Season with salt and pepper.

Spoon sauce over pasta; sprinkle with 2 Tbsp cheese. Serve with steaks.
Other delicious SKILLET recipes: