FLAT IRON STEAKS WITH PEANUT SAUCE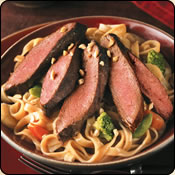 FLAT IRON STEAKS WITH PEANUT SAUCE
Ingredients

Beef flat iron steaks (approx. 7 oz each)
1/4 tsp ground red pepper
1/4 tsp ground black pepper
1 pkg (16 oz) frozen Asian vegetable mixture
3 cups cooked thin Chinese noodles
3/4 cup peanut sauce
1/4 cup roasted peanuts, chopped
Instructions
Combine peppers; press onto beef steaks. Heat large nonstick skillet over medium heat until hot. Add steaks; cook 13 to 15 minutes for medium rare to medium doneness, turning twice. Remove.

Combine vegetables and 1/4 cup water in skillet; bring to a boil. Reduce heat to medium; cook, covered, 5 to 7 minutes or until crisp-tender. Add noodles and peanut sauce; toss to coat. Heat through.

Carve steaks; season with salt. Serve over noodle mixture. Top with peanuts.
Other delicious SKILLET recipes: