SANTA FE GRILLED BEEF STEAKS & CORN
buy beef for this recipe | print recipe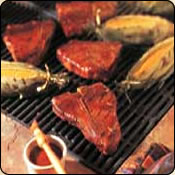 SANTA FE GRILLED BEEF STEAKS & CORN
Ingredients

4 beef T-Bone, cut 1-1/2" thick (about 1 lb each)
4 ears sweet corn, in husks
3 Tbsp butter
Chili Glaze:
1/2 cup Heinz 57 sauce
2 cloves garlic, minced
1-1/2 tsp chili powder
1/2 tsp ground cumin
Instructions
Peel corn, leaving husks attached; remove silk. Rewrap corn in husks; tie closed. Soak in cold water 30 minutes. Combine glaze ingredients; remove and reserve 1/4 cup.

Drain corn. Place on grid over medium, ash-covered coals. Grill, uncovered, 20 to 30 minutes, turning frequently.

After 5 or 10 minutes, place beef steaks on grid with corn. Grill T-Bone or Porterhouse steaks, uncovered, 14 to 16 minutes (top loin steaks 15 to 18 minutes) for medium rare to medium doneness, turning occasionally. Brush steaks with remaining glaze during last 5 minutes.

Combine reserved 1/4 cup glaze and butter in 1-cup glass measure. Microwave on HIGH 1-1/2 to 2 minutes, stirring once. Carefully peel corn; brush with chili butter. Serve with steaks and remaining chili butter.
Other delicious GRILL recipes: