Kobe Beef Quality, Family Affordable
Details
Round Steak
Perfect for baked steak, steak fingers, or on the grill!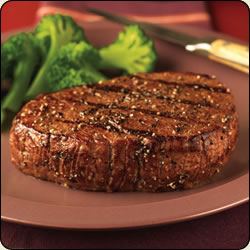 Round Steaks - 1 Steak
Your Price: $7.50 (16 oz min or 1 lbs)

---
Round Steaks - 2 Steaks
Your Price: $14.25 (32 oz min. or 2 lbs)

---
Round Steaks - 4 Steaks
Your Price: $27.00 (64 oz min. or 4 lbs)

---
Our Criollo Round Steak is one of the most under-appreciated cuts of beef we have available. Because of their superb genetics, Round Steaks from our Grass Fed Criollos are tender enough to serve thin-sliced medium rare, straight off the grill. Any leftover slices can be a quick lunch the next day, rolled up in a tortilla and warmed in the microwave-yum! Or, slice our Criollo Round Steaks into finger size pieces, sear lightly in olive oil, and simmer 10-12 minutes over low heat in Teriyake sauce for Criollo Steak Fingers-double yum! Averages 16 oz.
Recipes
---
---
---
---
Shipping
Shipping Information
Our next shipping date will be Monday, December 17, 2018.
Your Criollo Beef order is delivered to your door in perfect condition. We use plenty of dry ice and a reusable, insulated cooler - a packaging combination that will insure your products arrive frozen and in excellent condition. We ship via UPS on Mondays.
In delivery areas requiring 3 or 4 days in the UPS system (green and brown areas on the UPS map) : to insure your Criollo Beef order arrives in perfect condition, we must add additional dry ice, and usually a larger shipping container to hold the extra dry ice. Due to the additional dry ice and larger container needed, shipments requiring 3 or 4 days in the UPS system will require an additional $10.00 in shipping fees. If you live in the 3 or 4 day UPS delivery area (based on delivery zip code), your shipping charges will be increased by $10.00 (from $19.00 to $29.00 for 0 to 25.0 lbs, and from $38.00 to $48.00 for 25.1 to 50.0 lbs., etc.). You will see this additional $10.00 (if applicable) added for the final order verification.
UNFORTUNATELY, WE CANNOT SHIP TO AREAS REQUIRING 5 DAYS DELIVERY, (PUERTO RICO and 2 SMALL AREAS IN NEVADA - ORANGE ON THE UPS MAP), NOR TO HAWAII OR ALASKA. DISTANCE CHARGES AND 5 DAY DELIVERY MEANS 7 DAYS IN THE UPS SYSTEM, AND WE JUST CAN'T KEEP YOUR ORDER IN PERFECT CONDITION FOR THAT LONG! THANK YOU FOR YOUR UNDERSTANDING.