BBQ BEEF SKILLET WITH CORNBREAD
buy beef for this recipe | print recipe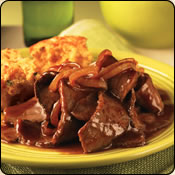 BBQ BEEF SKILLET WITH CORNBREAD
1-1/2 to 2 hours
4 servings
Ingredients

2 beef round steaks, cut 1" thick (about 1 lb each)
1 cup barbecue sauce
1 large onion, sliced (1/2"), separated into rings
Cornbread or corn muffins
Instructions
Mix barbecue sauce with 1/4 cup water in large skillet. Place beef steaks and onion in skillet; bring to a boil. Reduce heat; cover tightly and simmer 1-1/4 to 1-3/4 hours or until beef is fork-tender.

Remove steaks. Cook and stir sauce 5 minutes or until thickened.

Carve steaks. Serve with sauce and cornbread.
Other delicious BRAISE recipes: