ASIAN BEEF AND BROCCOLI NOODLE BOWL
buy beef for this recipe | print recipe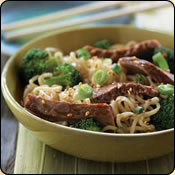 ASIAN BEEF AND BROCCOLI NOODLE BOWL
Ingredients

3 beef chuck ranch steaks, cut 1-1/4 inch thick (6 to 10 oz each)
2 teaspoons vegetable oil
3 cups water, divided
2 packages (3 ounces each) Oriental or beefflavored instant ramen noodles, broken up
2 tablespoons minced fresh ginger
4 cups broccoli florets, cut into 1 to 1-1/2-inch pieces
Toppings: Toasted sesame seeds, sliced green onions, chopped fresh cilantro (optional)
Instructions
Heat oil in stockpot over medium heat until hot. Place beef steaks in stockpot; brown evenly. Pour off drippings; season with pepper, as desired.

Add 1 cup water, seasoning packets from ramen noodles and ginger; bring to a boil. Reduce heat; cover tightly and simmer 1-1/4 to 1-3/4 hours or until beef is fork-tender.

Remove steaks; keep warm. Add remaining 2 cups water, broccoli and noodles to stockpot; bring to a boil. Cook, uncovered, 4 to 6 minutes or until broccoli is crisp-tender and noodles are tender, stirring occasionally.

Carve steaks into thin slices; return to stockpot. Season with salt and pepper, as desired. Garnish with toppings, if desired.
Other delicious BRAISE recipes: