BEER-BRAISED BRISKET WITH MUSTARD SAUCE
buy beef for this recipe | print recipe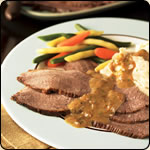 BEER-BRAISED BRISKET WITH MUSTARD SAUCE
Ingredients

2 to 3 lb Criollo Beef Briskit
1 Tbsp olive oil
2 large onions, chopped
1 bottle (12 oz) beer or pale ale
Mustard Sauce:
1/2 cup Dijon-style mustard
2 Tbsp chopped parsley
Instructions
Heat oil in stockpot over medium heat until hot; brown beef brisket. Remove; sprinkle with 1 tsp salt and 1/2 tsp pepper.

Add onions to pot; cook and stir 5 minutes or until tender. Place brisket, fat side up, in pot. Add beer; bring to a boil. Reduce heat; cover tightly and simmer 2-1/2 to 3 hours or until brisket is fork-tender.

Remove brisket. Skim fat; cook cooking liquid, uncovered, 15 to 20 minutes or until reduced by half.

Combine mustard, parsley and 2 Tbsp onion sauce. Carve brisket diagonally across the grain; top with remaining onion sauce. Serve with mustard sauce.
Other delicious BRAISE recipes: