SOUTH PACIFIC CHUCK RANCH STEAK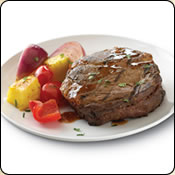 SOUTH PACIFIC CHUCK RANCH STEAK
Ingredients

4 beef chuck ranch steaks, cut 1-1/4" thick (about 6 to 10 oz each)
1-1/2 cups purchased fresh pineapple chunks packed in juice
1/2 cup hoisin sauce
1 large red bell pepper, cut into 1-1/2 inch pieces
1 small red onion, cut into 8 wedges
1/3 cup apricot preserves
2 tablespoons fresh lemon juice
2 tablespoons chopped fresh cilantro
Instructions
Soak four 12-inch bamboo skewers in water 10 minutes; drain.

Meanwhile drain pineapple, reserving 1/2 cup juice. Combine pineapple juice and hoisin sauce in small bowl. Place steaks in food-safe plastic bag. Pour 1/4 cup hoisin-pineapple mixture over steaks; turn to coat. Close bag securely and marinate in refrigerator 15 minutes to 2 hours.

Alternately thread pineapple chunks, bell pepper pieces and onion wedges onto skewers. Place in glass dish; brush 1/4 cup hoisin-pineapple mixture on kabobs. Cover and marinate in refrigerator up to 2 hours.

Remove steaks and skewers from marinade; discard marinade. Place steaks and kabobs on grid over medium, ash-covered coals. Grill, covered, 9 to 11 minutes (over medium heat on preheated gas grill, covered, 9 to 12 minutes) until steaks are medium rare to medium doneness and vegetables are crisp-tender, turning occasionally.

Meanwhile combine remaining hoisin-pineapple mixture, apricot preserves and lemon juice in small saucepan; cook and stir over medium heat until hot. Serve steaks with kabobs and sauce. Sprinkle with cilantro.
Other delicious MARINATE THEN GRILL recipes: