Kobe Beef Quality, Family Affordable
Details
Top Round Roast - 3.0 lbs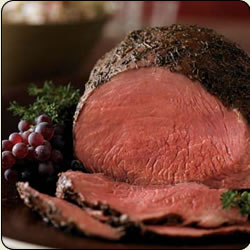 An incredible roast, and perfect for the carving station! Our Criollo Top Round Roasts are close-trimmed, so you can enjoy every morsel with no waste!
Criollo Top Round Roasts are PERFECT for parties and special occasions. A good rule of thumb, in planning how much you'll need, is about 6 oz of roast per person. 3 lbs of Criollo Top Round Roast will easily serve up to 6 guests. 6 lbs will serve up to 12, etc.
Sear lightly in olive oil, then cook this tender roast at about 175-200 degrees for an hour or less. (Our grass fed Criollo Roast Beef cooks 50% faster than conventional roast beef because it is leaner with less fat. It also has less calories and cholesterol than conventional roast beef.) Remove from the oven when still a dark red, as grass-fed beef continues to cook for another 10 minutes after being removed from the heat. Can be served thick-sliced, like at the country club, or thin-sliced au jus, or sliced and cold for finger sandwiches.
Recipes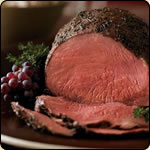 ---
Shipping
Shipping Information
Our next shipping date will be Monday, December 11, 2023.
Your Criollo Beef order is delivered to your door in perfect condition. We use plenty of dry ice and a reusable, insulated cooler - a packaging combination that will insure your products arrive frozen and in excellent condition. We ship via FEDEX on Mondays. Our shipping charges for 1 and 2 day deliveries (tan and light tan areas on the map) are $36.00 for each 25 pounds of beef (i.e. 1 to 25 lbs will be $36.00 and 26 to 50 lbs will be $72)
In delivery areas requiring 3 or 4 days in the FEDEX system (green and brown areas on the map) : to insure your Criollo Beef order arrives in perfect condition, we must add additional dry ice, and usually a larger shipping container to hold the extra dry ice. Due to the additional dry ice and larger container needed, shipments requiring 3 or 4 days in the FEDEX system will require an additional $18.00 in shipping fees. If you live in the 3 or 4 day FEDEX delivery area (based on delivery zip code), your shipping charges will be increased by $18.00 (from $36.00 to $54.00 for 0 to 25.0 lbs, and from $72.00 to $90.00 for 25.1 to 50.0 lbs., etc.). You will see this additional $18.00 (if applicable) added for the final order verification.
UNFORTUNATELY, WE CANNOT SHIP TO AREAS REQUIRING 5 DAYS DELIVERY, (PUERTO RICO and 2 SMALL AREAS IN NEVADA - ORANGE ON THE MAP), NOR TO HAWAII OR ALASKA. DISTANCE CHARGES AND 5 DAY DELIVERY MEANS 7 DAYS IN THE SHIPPING SYSTEM, AND WE JUST CAN'T KEEP YOUR ORDER IN PERFECT CONDITION FOR THAT LONG! THANK YOU FOR YOUR UNDERSTANDING.