Beyond Burgers: 7 Ground Beef Recipes the Whole Family Will Love
Pleasing every palate in your household is a daily challenge. The next time you're out of ideas, try one of these easy ground beef recipes and win at dinner!
One of the joys of cooking is finding ways to please every palate.
Even picky eaters have trouble resisting the right balanced, flavorful meal.
It's tempting to turn to chicken to fill the void, but ground beef recipes are the most versatile option when upgrading your dinner menu.
Let's think beyond burgers with these eight savory beef recipes.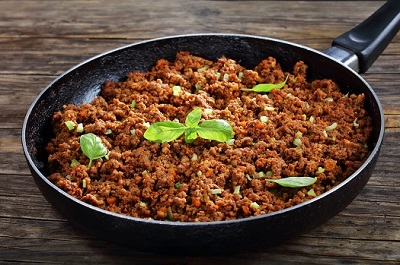 1. Bolognese Pasta
A fancier and heartier update on spaghetti, bolognese pasta is a fresh take on the classic dish.
The sauce is mostly meat-based with tomato included for flavoring. 
In traditional Italian kitchens, bolognese sauce is cooked for hours over low heat. In your kitchen, however, opt for a premade pasta sauce to speed up the process.
Here are the ingredients you will need to make bolognese pasta:
½ cup extra-virgin olive oil
4 garlic cloves, sliced
1 lb. ground beef
Kosher salt
1 16-ounce jar pasta sauce
1 pint of cherry tomatoes
12 oz. bucatini or spaghetti
1 Tbsp. unsalted butter, cut into pieces
2 cups basil leaves, chopped
Finely-grated Parmesan 
Directions
Add olive oil to a saucepan over medium-high heat along with the four cloves of garlic. Cook until fragrant. Add ground beef and stir until all the pink is gone, breaking up chunks of meat as you go. 
After 5 minutes of breaking up chunks of ground meat, reduce heat to medium-low, then add pasta sauce and the pint of cherry tomatoes. Smash the tomatoes with the back of a wooden spoon.
Boil 6 quarts of water in a stockpot adding kosher salt to taste. While the water heats, stir the meat sauce to blend in the juice from the tomatoes.
Once water is boiling, add pasta to the pot and cook 2 minutes less than directions listed on the package. Drain pasta and add to the pot with the meat sauce.
Add butter, parmesan, and chopped basil leaves. Toss the pasta in the sauce until ingredients are combined and butter is melted.
2. Spicy Beef Lettuce Wraps
Most beef recipes are carb-driven, making them a perfect choice for long winter nights.
But for a quick beef recipe during the summer months, skipping the carbs can be beneficial.
Here are the ingredients needed to make beef lettuce wraps:
1 head of Bibb lettuce
1 cup scallions
1/2 tbsp chili oil
1/4 soy sauce
1 tsp olive oil
1/2 cup cilantro, chopped
1lb ground beef
Salt and pepper, to taste
Directions
Heat a large skillet or wok over medium-high heat. Add olive oil and scallions. Cook scallions until tender, stirring occasionally. 
Add ground beef, pressing down with a wooden spoon while breaking up into fine crumbles until there is no pink left. Add soy sauce and cook until dissolved.
Add chili oil and bring it to a simmer for about 3 minutes. Rinse the Bibb lettuce. Pull off each piece and refrigerate until ready to use.
Remove ground beef from heat and stir in cilantro. Add salt and pepper to taste. When ready to serve, add meat mixture to each lettuce cup. 
3. Beef Chili
Few recipes require less fuss than chili.
You can scale your recipe up and down depending on the crowd size.
Unless you're looking to win a cooking contest, there are only a few ingredients necessary to make your pot of chili taste great. 
Ingredients:
1 - 16-ounce can of kidney beans
1/2 cup sliced jalapenos (canned)
1 lb ground beef
1 - 16-ounce can of crushed tomatoes
1 can of tomato paste
1 tsp cumin
1 tbsp chili powder
1 tsp garlic powder
1 medium-sized onion, diced
4 cups of water
1 tbsp oil
Salt and pepper to taste
Directions
Heat oil in dutch oven or stockpot. Add onion and saute until translucent. Add ground beef and cook over medium heat till no pink shows. 
Add can of crushed tomatoes, tomato paste and water to the beef. Season with cumin, chili powder, garlic powder, salt, and pepper. Next, add canned jalapenos.
Simmer for 30 minutes over low heat. For the last 10 minutes of cooking, add the canned kidney beans to the pot. Stir and add additional salt and pepper to taste.
4. Ten-Minute Tacos
Every weeknight needs an easy recipe option.
Tacos are a savior for busy families with less than 30 minutes available to prepare dinner.
Here's a simple taco recipe for even the pickiest eaters. 
Ingredients:
1 tsp olive oil
1lb ground beef
1/4 cup of water
1 tbsp taco seasoning
3 cups shredded iceberg lettuce
2 cups shredded Mexican cheese blend
1 cup of pico de gallo (store-bought)
Hard and soft taco shells
Directions
To prepare, heat olive oil over medium heat.
Add ground beef and cook to no pink spots show. Drain meat and add taco seasoning along with water. Reduce heat to low and cover for around 5 minutes.
Once the taco meat sauce thickens, remove from heat. Serve tacos in hard or soft shell starting with a base layer of meat and adding ingredients to taste.
5. Nacho Dip
Delicious ground beef recipes aren't limited to the dinner table.
When planning a party, a hearty nacho dip is an inexpensive way to cater to guests.
Ingredients:
1 tsp olive oil
1lb ground beef
2 cans of Rotel Salsa
1 package of Velveeta Cheese
Directions
Heat olive oil in a nonstick pan over medium heat. Add ground beef and saute until no pink shows pressing with a wooden spoon to create crumbles. Set aside. 
Turn a crockpot or large stockpot on low heat. Add cheese and cans of salsa. Next, add ground beef.
Cook for two hours or until cheese melts and the mixture is heated throughout. 
6. Quinoa Meatloaf
Who says meatloaf can't have a touch of sweetness?
Adding a hint of brown sugar and quinoa to your meatloaf can have a magical effect.
Here's a savory and sweet meatloaf recipe that successfully sneaks in a few healthy grains.
Ingredients:
1/4 cup quinoa
1/2 cup water
1 tsp olive oil
1 white onion, diced
1 clove garlic, crushed
1 lb ground beef
1/4 cup brown sugar
1 can tomato paste
1 egg
2 tbsp Worcestershire sauce
Ketchup, to taste
Directions
Preheat oven to 350 degrees.
Bring water to a boil in a small saucepan. Add quinoa and simmer for about 20 minutes or until all water is absorbed. Remove from heat and set aside.
In a skillet, heat olive oil over medium-low heat and add onion and garlic. Cook until onion is translucent or about four minutes. Remove from heat and set aside.
Add raw ground beef, egg, brown sugar, tomato paste, Worcestershire sauce, onion/garlic, and quinoa to a large bowl. Mix all ingredients together and shape into a loaf.
Squeeze ketchup across the top of the loaf in a zig-zag pattern. Add loaf to a foil-lined baking sheet and cook for 50 minutes or until internal temperature reaches 160 degrees.
7. Lazy Shepherd's Pie
Shepherd's pie is a hearty dish that can be a chore to prepare on a moment's notice.
Here's a recipe that allows you to enjoy the filling dinner option without the hours of prep time.
Ingredients:
1 lb ground beef
1 tsp olive oil
1 package of frozen mixed vegetables
5 Yukon potatoes, diced and peeled
Salt and pepper, to taste
Directions
Preheat oven to 350 degrees. 
In a large pot, boil potatoes until tender.
Remove from heat and drain potatoes. Add potatoes to mixing bowl. Turning mixer on high, whip potatoes until creamy.
Add salt and pepper.
In a skillet, heat olive oil and add ground beef. Cook beef until no pink shows adding salt and pepper to taste. Pour beef into a 9x9 baking dish, top with frozen vegetables then spread the mashed potatoes on top.
Bake for 30 minutes uncovered or until the potatoes are golden brown. 
Finding the Best Ground Beef Recipes
The beauty of ground beef recipes is that they can wear any hat.
One day they provide a low-carb solution, while on another day a recipe can rival that of a fast-food chain.
The possibilities are as numerous as your family's tastebuds. 
For more information on getting the best quality beef for your recipes, check out our latest products.