TOP SIRLOIN STEAKS WITH SPINACH-LEMON PESTO PASTA
buy beef for this recipe | print recipe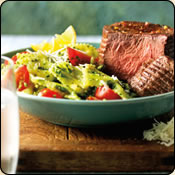 TOP SIRLOIN STEAKS WITH SPINACH-LEMON PESTO PASTA
Ingredients

2 beef top sirloin steaks, cut 1-1/4" to 1-1/2" thick (about 1 lb each)
3 cups uncooked bow tie pasta
1 cup cherry tomatoes, cut into quarters
Grated Parmesan cheese (optional)
Toasted sliced almonds (optional)
Marinade:
Grated peel from 1/2 lemon
2 tablespoons fresh lemon juice
1 clove garlic, minced
1/2 teaspoon smoked paprika
1/2 teaspoon pepper
Pesto:
2 cups packed fresh baby spinach
1/3 cup grated Parmesan cheese
1/4 cup sliced almonds, toasted
Grated peel from 1/2 lemon
1 tablespoon fresh lemon juice
1 clove garlic, chopped
2 tablespoons olive oil
Instructions
Combine Marinade ingredients in small bowl. Place beef filets and marinade in food-safe plastic bag; turn filets to coat. Close bag securely and marinate in refrigerator 15 minutes to 2 hours.

Preheat oven to 350°F. Remove filets from marinade; discard marinade. Heat heavy, ovenproof, nonstick skillet over medium heat until hot. Place filets in skillet and brown 2 minutes; turn filets over and place skillet into preheated oven.

Cook in 350°F oven 19 to 23 minutes for medium rare; 24 to 28 minutes for medium doneness.

Meanwhile, cook pasta according to package directions, reserving 2 tablespoons pasta cooking water for Pesto before draining.

Prepare pesto. Place spinach, cheese, almonds, lemon juice and peel and garlic in food processor container. Cover; process until coarse paste forms. With motor running, slowly add oil and reserved pasta water through opening in cover, processing until smooth. Combine tomatoes, pesto and pasta in large bowl; toss to combine. Season with salt and pepper, as desired; set aside.

Remove filets from oven when internal temperature reaches 135°F for medium rare; 150°F for medium. Transfer filets to carving board; tent loosely with aluminum foil. Let stand 5 to 10 minutes. (Temperature will continue to rise about 10°F to reach 145°F for medium rare; 160°F for medium).

Carve filets into slices; arrange over pasta. Garnish with additional cheese and almonds, if desired.
Chef's Tip: If oven-safe skillet is not available, transfer browned filets to rimmed baking sheet. Cook 6 to 8 minutes longer for medium rare to medium doneness. Proceed as directed.
Chef's Tip: To toast almonds, spread in single layer on rimmed baking sheet. Bake in 350°F oven 3 to 5 minutes or until lightly browned, stirring occasionally. Watch carefully to prevent burning.
Other delicious MARINATE THEN GRILL recipes: