ASIAN BARBECUE STEAK
buy beef for this recipe | print recipe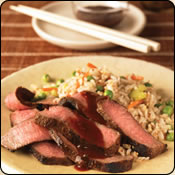 ASIAN BARBECUE STEAK
Ingredients

2 beef top sirloin steaks, cut 1-1/4" to 1-1/2" thick (about 1 lbs each)
Marinade:
1/2 cup ketchup
1/4 cup chopped green onions
1/4 cup hoisin sauce
1 Tbsp minced fresh ginger
Instructions
Press cumin onto beef roast. Heat oil in stockpot over medium heat until hot; brown roast. Sprinkle with 1/2 tsp salt and 1/4 tsp pepper.

Add salsa; bring to a boil. Reduce heat; cover tightly and simmer 2-1/2 to 3-1/4 hours or until beef is fork-tender.

Remove roast. Skim fat. Add beans and corn to pot; simmer, uncovered, 8 to 10 minutes or until slightly thickened.

Carve steaks; season with salt. Serve with bean mixture.
Other delicious MARINATE THEN GRILL recipes: