Five Easy and Healthy Steak Recipes Worth Trying
You don't have to be a professional chef to make healthy meals. Check out these easy and healthy steak recipes for kitchens of all sizes.
Red meat gets a bad rap on the health food circuit, but it's always dangerous to generalize. In fact, it's the kind of beef you eat rather than the meat itself which you should chop out of your diet.
Good quality grass-fed beef always deserves a place on your plate, especially when you take care in preparing it. 
These healthy steak recipes will make you forget every preconception you've ever had about steak.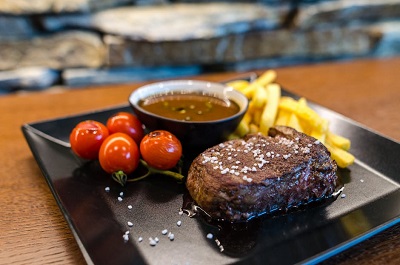 1. Healthy Steak Recipes for the Grill
A great grass-fed steak is even better when matched with a good marinade. Here are two easy and healthy versions of steak to suit your summer barbecue. 
Smoky BBQ Rub
Combine the following ingredients:
1T           Extra-virgin olive oil
1½ t       Distilled white vinegar
1½ t       Smoked paprika
1 t           Light brown sugar
½ t          Chipotle chili, ground
½ t          Salt
¼ t          Garlic powder
⅛ t          Ground pepper
1lb          Grass-fed flank steak, trimmed
Rub the mixture over the steak and grill it on medium-high heat.
Miso Marinade
Ingredients:
⅓ cup   Sake
¼ cup   Mirin ( low-alcohol rice wine)
1 T        Reduced-sodium soy sauce
1 t        Fresh ginger, minced
1 t        White sugar
2 T        White Miso
1 T        Peanut oil
1½ lb    Grass-fed flank steak, trimmed
Method
Combine the first five ingredients in a saucepan and bring to the boil over medium-high heat.
Remove the mix from the heat and add the miso. Whisk until the miso dissolves.
Let the marinade cool.
Place the steak in a sealable gallon-size plastic bag, pour in the marinade. Turn the bag several times to coat the steak, then seal the bag.
Leave in the fridge to marinate for 2 hours.
Take the steak out the bag and let it stand for 40 minutes. Pat it dry, brush it with peanut oil and then grill at medium-high heat.
Both of these recipes come in at under 250 calories per serving and have low levels of cholesterol and sodium.
2. Skirt Steak and Corn-Tomato Relish
This is one of those easy steak recipes that are great for a weeknight meal.
Ingredients 
1 lb        Skirt steak
¾ t        Kosher salt
¾ t        Ground pepper
1 ear      Corn, husked
3 T         Extra-virgin olive oil
½ cup    Cherry tomatoes, cut in half
¼ cup    Onion, thinly sliced
2 T        Fresh basil, torn
1½        Rice vinegar
1           Serrano chile, seeded and minced
Method
Preheat the grill to medium-high
Sprinkle ½ teaspoon each of salt and pepper over the steak.
Brush the steak and corn with 1 tablespoon of the oil
Oil the grill rack and grill the corn until lightly charred. Then grill the steak.
Let the meat rest for 10 minutes.
Cut the kernels from the cob and add to bowl with the remaining ingredients, including the salt, pepper, and oil.
Slice the steak into thin slivers against the grain and serve it with the relish.
To take this meal to the next level, serve it with salad greens or one of these yummy side dishes. 
3. Classic Homemade Steak Burgers
When you make your own burger patties you know they're full of goodness and preservative-free. Here's how to do it:
Ingredients
½ cup     chopped onion
1 T          Canola oil  
1 t           Canola oil for cooking
1T           Low-sodium salsa
1 lb         Lean grass-fed ground beef (made from premium steak cuts)
2 T          Worcestershire sauce
½ t         Ground pepper
Method
Combine the tablespoon of oil, onion, and salsa in a small saucepan.
Cover and cook over medium heat until the onion is soft.
Add the salsa mix to a medium bowl with the beef, Worcestershire sauce, and pepper.
Combine these ingredients gently.
From the meat mix into 4-inch patties and set aside.
Fry the patties in the remaining oil for 5 to 7minutes a side.
For extra health benefits, serve the burgers on cauliflower buns with lettuce and tomato.
4. Steak and Apple Tacos
Take Taco Tuesday up a notch with this healthy, tasty treat. It's one of our favorite low-calorie steak recipes. 
Marinade Ingredients
1/3 cup   Fresh cilantro leaves, finely chopped
1/2 cup   Red onion, diced
1            Red bell pepper, seeded and diced
1            Garlic clove, minced
2 T         Fresh lime juice
1 T         Extra virgin olive oil
1 t          Worcestershire sauce
1/4 t       Chili powder
2 t          Dijon mustard
freshly ground black pepper and sea salt 
Filling Ingredients
2 T         Extra virgin olive oil
1 1/2 lb   Skirt steak, trimmed and cut into 4-inch pieces
8            6-inch corn tortillas
4            Scallions, thinly sliced
1/2 cup   Purple cabbage, shredded
1            Carrot, shredded
1/2 cup   All-natural salsa
1            Green apple, thinly sliced
1/4 cup   Roasted, unsalted cashew nuts, chopped
Method
Mix the marinade ingredients in a food processor until smooth and then transfer to a large resealable plastic bag.
Add the steak to the bag and flip the bag until the steak is well coated.
Seal the bag and refrigerate overnight.
Remove the steak and leave it to sit at room temperature for 15 minutes.
Brush the steak with the oil, season it with salt and pepper, and grill or fry it on medium high for 5 minutes, turning once.
Transfer the meat to a cutting board and let it rest for a further 5 minutes.
To serve, divide the steak among the corn tortillas with the cabbage, carrot, salsa, apple, cashew nuts, and scallions. Season to taste before serving.
5. Garlic-Sesame Beef Stir Fry
Try a taste of the orient with this tasty steak stir fry. It's packed with goodness and easy to make. 
Ingredients:
Marinade
1lb          Boneless beef sirloin steak, trimmed
2 T          Reduced-sodium soy sauce
2 T          Lemon juice
1 T          Toasted sesame seed oil, plus 2 teaspoons extra
3             Garlic cloves, minced
1 t           Ground ginger
¼ t          Red pepper, crushed red pepper
Other
6 oz        Wholewheat linguine
4 cups   Broccoli florets
½ cup    water
½ cup    onion slivers
⅛ t         Ground pepper
1t           Toasted sesame seeds
Method
Slice the beef thinly across the grain and place it into a resealable plastic bag set in a shallow dish.
Combine the marinade ingredients and pour them over the beef.
Seal the bag and turn it until the beef is well coated.
Refrigerate for 15 minutes, turn the bag, and refrigerate for another 15 minutes.
Fill a large saucepan with water and bring it to the boil.
Add the linguine and cook it for 1 minute less than directed on the packet.
Scoop a ½ cup of the cooking water out of the pot and set it aside for the sauce. Drain the pasta.
Cook the broccoli in a ½ cup of water over medium-high heat in a wok or skillet until the water evaporates.
Add the onion, pepper and 2 tablespoons of oil and cook until the broccoli is crisp and tender, stirring occasionally. 
Transfer the broccoli mix to a plate and keep it warm.
Pour the reserved water and marinade into the wok or skillet, add the noodles and cook over medium heat for 2 to 3 minutes until the sauce begins to thicken.
To serve, divide the noodles among shallow bowls, and top with the beef. Pour the broccoli mixture over the top and sprinkle with sesame seeds. Serve with lemon wedges if desired.
It's All About Choices
The first step in creating healthy steak recipes lies in selecting the best cuts of meat. That's easy when you choose beef farmed the natural way, without any added extras. 
Now, all you need to do is order your premium beef and get cooking.