Eight Delicious Beef Recipes from Around the World
Beef has been consumed by humans all around the world for millennia. Discover 8 of the most delicious beef recipes in the world here.
Are you a beef lover? Then why not try recipes that come from other parts of the globe?
Americans' love for beef is unquestionable. In fact, the United States ranks first among countries that eat the most meat. 
Moreover, the cattle industry continues to go on an upward trend. Experts also predict that beef production in the country will grow up to 4% in the third quarter of 2019. 
Continue reading below as we take a look at beef recipes you should try before you die.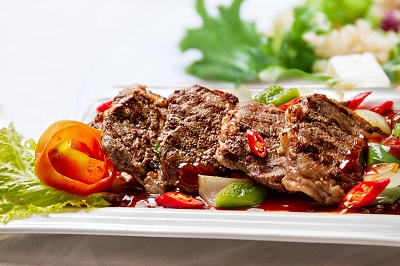 Must-Tries: Beef Recipes from Different Parts of the Globe
One of the best things about beef is its dynamic character. You can prepare it in different ways. Some prefer marinating then grill while others opt for oven roast beef. 
Regardless of your preference, here are 8 delicious beef recipes coming from different parts of the world. 
1. Lean Baked Meatballs Marinara (Italy)
What you need:
1 pound LEAN Ground Beef (92% lean)
1 egg or 2 egg whites beaten
1/4 cup seasoned dry bread crumbs
2 tablespoons water
1/8 teaspoon pepper
1/4 teaspoon salt
2 cups pasta sauce
4 cups cooked pasta
4 tablespoons shredded parmesan cheese
Prepare oven at 400°F. Mix your ground beef, egg whites, salt, pepper, water, and bread crumbs in a large bowl. Lightly mix all of the ingredients.
Shape the mixture into 12 pieces of 2-inch meatballs. Drizzle some cooking spray on broiler pan. Place the meatballs on top and bake for 20 minutes.
For the pasta sauce, follow the instructions on the packaging. Add the cooked meatballs to the sauce and stir evenly. Place the sauce and meatballs on top of your pasta.
2. Beef, Bean, and Corn Quesadillas (Mexico)
What you need:
1 pound Ground Beef (92% lean)
1/2 cup canned black beans (rinsed and drained)
1 cup prepared salsa
8 small flour tortillas
3/4 cup shredded Mexican cheese blend 
Salt and pepper
 Heat your oven to 400°F, as well as your large non-stick skillet on medium heat. Cook the ground beef for 10 minutes. Break it into ¾-inch crumbles as you stir. 
Season the beef with salt and pepper to taste. Separate the drippings then mix the beans, corn, and salsa. Cook for 5 minutes until it gets thick.
Arrange 4 pieces of tortillas on the baking sheet. Sprinkle half of the cheese and pour the beef mixture over the cheese. Use a spoon to ensure an even spread.
Top off everything with the remainder of the cheese. Put some cooking spray over the tortillas then bake for 13 minutes. 
3. Korean Beef Short Ribs (Korea) 
What you need for the marinade:
3 pounds of Plank Style Short Ribs beef, cut 1/4-inch thick
1/4 cup plus 2 tablespoons reduced-sodium soy sauce
1/4 cup chopped green onions
1/4 cup apple juice
1/4 cup unseasoned rice vinegar
3 tablespoons packed brown sugar
1 tablespoon minced ginger
1 teaspoon crushed red pepper
1 tablespoon minced garlic
What you need for the pickled vegetables:
1 tablespoon packed brown sugar
1/4 cup unseasoned rice vinegar
1/4 teaspoon salt
1/4 teaspoon crushed red pepper
4 cups matchstick-cut vegetables
Take a small bowl and mix all marinade ingredients. Get a food-safe plastic bag and mix the marinade and the beef ribs inside. Refrigerate the bag overnight.
Combine ingredients for pickled vegetables except for the vegetables in a large bowl. Whisk then add vegetables thereafter. Cover and refrigerate for 2 hours.
Remove the ribs from the plastic bag. Set aside the marinade. Brush the ribs with oil grill then place over grill.
Grill for 3 to 4 minutes per side at 145°F. Pour the marinade in a small pan then boil it. Drizzle over the ribs and put pickled vegetables on the side.
Buy Planks of Criollo Short Ribs Here
4. Brazilian Beef and Cheese Sliders (Brazil)
What you need:
12 ounces of diced Top Round Roast Beef
2 teaspoons vegetable oil
2 teaspoons flour
1/2 cup shredded mozzarella cheese
1/4 cup water
1 cup diced tomato
6 slider buns
dill pickle slices (optional)
Medium heat a large non-stick skillet until hot. Add the vegetable oil and flour and cook for 3 minutes. Add the water and stir until the sauce becomes thick. 
Add the cheese and stir for 2 minutes before stirring in the beef. Place 1/3 cup of the cheese and meat mixture on the bottom of each bun. Place 2 tablespoons of diced tomatoes and some pickle slices before closing the sandwiches.
5. Beefy Pasty Pie (Britain)
What you need:
1-1/2 lbs Ground Beef
1-1/4 cups shredded carrots
1 refrigerated pie crust
1-1/4 cups shredded russet potatoes
3/4 cup shredded onion
1/2 teaspoon pepper
1 egg (beaten)
1 teaspoon salt
Ketchup or beef gravy
Mix the beef, onion, potatoes, carrots, salt, and pepper in a large bowl. Divide the mixture into six 8-ounce bowls. Place the pie crust on a flat surface and cut them into six circles.
Place the crust over each bowl and cut three slits on the crust. Place bowls on a baking sheet and bake for 35 minutes in a 400°F oven. Top with gravy or ketchup if you wish.
6. Peking Steak Bites (China)
What You Need:
1 beef Top Sirloin Steak Boneless, cut 1-1/4 inch thick
2 teaspoons five-spice powder
1 tablespoon vegetable oil
Minced green onions
8 pieces Chinese steamed buns
For the sauce:
3 tablespoons creamy peanut butter
3 tablespoons hoisin sauce
3 tablespoons water
1/4 teaspoon reduced-sodium soy sauce
1/4 to 1/2 teaspoon chili garlic sauce
1/4 teaspoon ground ginger
Kosher salt
Mix the five -pice powder and oil before spreading over the steak. Place the beef over medium heat grill. Cover and grill for 15 minutes.
In a medium bowl, mix the sauce ingredients until smooth. Steam the buns and keep them warm. Thinly slice the steak and add salt to taste.
Spread the sauce inside the bun. Add the beef and sprinkle with green onions. Close the sandwich and serve.
7. French-style Beef Baked Potatoes (France)
What you need:
1 pound beef Top Sirloin Steak Boneless (Slice 1-1/4 inch thick)
4 hot baked medium russet potatoes
1/2 cup shredded Swiss cheese
Caramelized Onion Sauce
Slice the beef in half, lengthwise. Slice it crosswise in 1/8-inch thick strips thereafter. Place half of the beef in a heated non-stick skillet.
Fry for 2 minutes until beef loses pink color. Prep the onion sauce. Add the beef then cook for another 3 minutes. 
Arrange the beef mixture among the potatoes and top it with cheese.
8. Greek Beef Pita (Greece)
What You Need:
1 pound beef Sirloin Tip Steaks (cut to 1/8-inch thick)
3 teaspoons vegetable oil
1 tablespoon lemon pepper
4 whole-wheat pita bread
3/4 cup hummus
4 pita bread cut in half, crosswise
Stack the beef and combine with lemon pepper in a bowl. Heat oil in medium heat. Add half of the beef and fry up to 3 minutes.
Spread hummus on pita pockets.
Get the Best Beef in Town!
Now that you have these beef recipes, all you need is to get the best beef in town. Check out our selection of lean and tender beef. We offer grass-fed beef that gives you that natural taste.
Get in touch with us and enjoy the best beef in town, today!