GINGER BEEF & NOODLE BOWLS
buy beef for this recipe | print recipe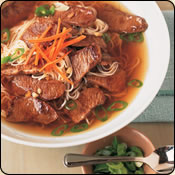 GINGER BEEF & NOODLE BOWLS
Ingredients

2 beef flat iron steaks (approx. 7 oz each)
1 Tbsp dark sesame oil
2 Tbsp minced fresh ginger
2 large cloves garlic, minced
2 cans (14 to 14-1/2 oz each) beef broth
3/4 cup thinly sliced green onions
2 Tbsp mirin or rice wine vinegar
6 cups cooked fresh thin Chinese noodles or unseasoned instant ramen noodles
1/2 cup matchstick-style shredded carrots
Instructions
Cut beef steaks crosswise into 1/4" thick strips; cut strips in half. Heat 1/2 Tbsp sesame oil in large nonstick skillet over medium-high heat until hot. Stir-fry ginger and garlic 1 minute. Add 1/2 of beef; stir-fry 2 minutes or until surface of beef is no longer pink. (Do not overcook.) Remove. Repeat with remaining oil and beef. Season with salt and pepper.

Combine broth, green onions and mirin in skillet; bring to a boil. Reduce heat; simmer 8 to 10 minutes.

Divide noodles and beef evenly among 4 soup bowls. Ladle boiling broth mixture over beef and noodles. Top with carrots.
Other delicious STIR FRY recipes: