Kobe Beef Quality, Family Affordable
Details
Rump Roast
The delicious Rump Roast is outstanding in the oven or the crock pot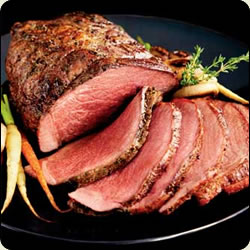 Rump Roast - Large
Your Price: $22.50 (48 oz min. or 3 lbs)

---
The Criollo Grass Fed Rump Roast is a popular choice for a delicious meal to feed the entire family. Coming in three sizes (2 lbs, 2.5 lbs and 3 lbs), our Criollo Rump Roasts are hand-trimmed and bone-in, for maximum flavor and minimum waste. These roasts are mouth watering, either roasted in the oven or the crock pot, with fall-off-the-bone tenderness.
Here's a recipe, generously shared with us from our customer Karen D.:
3 potatoes and 2-3 carrots (cut up), 1 onion (thinly sliced), sea salt, pepper, 1/2 cup water or beef broth; put veggies in bottom of slow cooker, salt & pepper the Criollo Rump Roast to taste and add to cooker, pour in water/beef broth, and cover; cook on low 7-8 hours
Recipes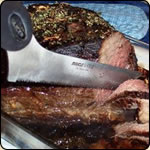 ---
Shipping
Shipping Information
Our next shipping date will be Monday, January 21, 2019.
Your Criollo Beef order is delivered to your door in perfect condition. We use plenty of dry ice and a reusable, insulated cooler - a packaging combination that will insure your products arrive frozen and in excellent condition. We ship via UPS on Mondays.
In delivery areas requiring 3 or 4 days in the UPS system (green and brown areas on the UPS map) : to insure your Criollo Beef order arrives in perfect condition, we must add additional dry ice, and usually a larger shipping container to hold the extra dry ice. Due to the additional dry ice and larger container needed, shipments requiring 3 or 4 days in the UPS system will require an additional $10.00 in shipping fees. If you live in the 3 or 4 day UPS delivery area (based on delivery zip code), your shipping charges will be increased by $10.00 (from $19.00 to $29.00 for 0 to 25.0 lbs, and from $38.00 to $48.00 for 25.1 to 50.0 lbs., etc.). You will see this additional $10.00 (if applicable) added for the final order verification.
UNFORTUNATELY, WE CANNOT SHIP TO AREAS REQUIRING 5 DAYS DELIVERY, (PUERTO RICO and 2 SMALL AREAS IN NEVADA - ORANGE ON THE UPS MAP), NOR TO HAWAII OR ALASKA. DISTANCE CHARGES AND 5 DAY DELIVERY MEANS 7 DAYS IN THE UPS SYSTEM, AND WE JUST CAN'T KEEP YOUR ORDER IN PERFECT CONDITION FOR THAT LONG! THANK YOU FOR YOUR UNDERSTANDING.