Kobe Beef Quality, Family Affordable
Details
Criollo Oxtail
Makes wonderful, hearty soup and the most flavorful beef stock!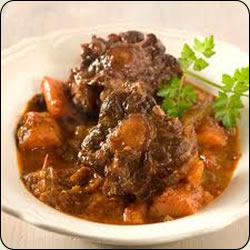 Criollo Oxtail - whole
Your Price: $4.95 (12 oz avg or 0.75 lbs)

These Steaks are so popular, we are temporarily Out Of Stock!


Click Here to View Available Criollo Beef Items


Click here and we will email you when this product becomes available.
---
Oxtails make a wonderful, hearty soup, delicious with a variety of vegetables thrown in. They also make the most flavorful beef stock. The robust beef flavor largely comes from the bones and marrow, but the oxtail meat is also very tender with an intense flavor. Avg 12 oz each.
Recipes
Shipping
Shipping Information
Our next shipping date will be Monday, December 17, 2018.
Your Criollo Beef order is delivered to your door in perfect condition. We use plenty of dry ice and a reusable, insulated cooler - a packaging combination that will insure your products arrive frozen and in excellent condition. We ship via UPS on Mondays.
In delivery areas requiring 3 or 4 days in the UPS system (green and brown areas on the UPS map) : to insure your Criollo Beef order arrives in perfect condition, we must add additional dry ice, and usually a larger shipping container to hold the extra dry ice. Due to the additional dry ice and larger container needed, shipments requiring 3 or 4 days in the UPS system will require an additional $10.00 in shipping fees. If you live in the 3 or 4 day UPS delivery area (based on delivery zip code), your shipping charges will be increased by $10.00 (from $19.00 to $29.00 for 0 to 25.0 lbs, and from $38.00 to $48.00 for 25.1 to 50.0 lbs., etc.). You will see this additional $10.00 (if applicable) added for the final order verification.
UNFORTUNATELY, WE CANNOT SHIP TO AREAS REQUIRING 5 DAYS DELIVERY, (PUERTO RICO and 2 SMALL AREAS IN NEVADA - ORANGE ON THE UPS MAP), NOR TO HAWAII OR ALASKA. DISTANCE CHARGES AND 5 DAY DELIVERY MEANS 7 DAYS IN THE UPS SYSTEM, AND WE JUST CAN'T KEEP YOUR ORDER IN PERFECT CONDITION FOR THAT LONG! THANK YOU FOR YOUR UNDERSTANDING.