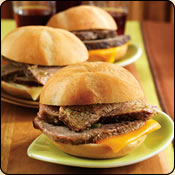 GREEN CHILE BEEF MINI SANDWICHES
Servings:6-8
Preparation Time: 2-3/4 to 3-3/4 hours

Ingredients

2 beef flank steaks (about 12 oz each)
1 tablespoon olive oil
1 large onion, chopped
1 cup prepared thick-and-chunky green salsa
12 to 16 mini sandwich rolls (2 to 3 inches long), split
8 slices pepper Jack or cheddar cheese, cut in half
Instructions
Heat oil in stockpot over medium heat until hot. Place flank steaks in stockpot; brown evenly. Remove flank steaks from stockpot. Pour off all but 1 teaspoon drippings.

Add onion to stockpot; cook and stir 3 to 5 minutes or until crisp-tender. Return flank steaks to stockpot. Stir in salsa; bring to a boil. Reduce heat; cover tightly and simmer 2 to 3 hours or until flank steaks are fork-tender.

Remove flank steaks; keep warm. Skim fat from cooking liquid; keep warm. Carve flank steaks into thin slices; stir into cooking liquid. Season with salt and pepper, as desired.

Warm rolls, if desired. Layer cheese and beef mixture evenly onto bottoms of rolls. Close sandwiches. Serve with additional cooking liquid.
Chef's Tip: Green salsa is also called salsa verde or tomatillo salsa. It is available in large supermarkets and specialty food stores.